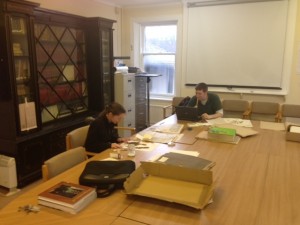 Glasgow Botanic Gardens (GBG) is holding a herbarium exhibition in the tea room gallery until 30 September. The exhibition shows a range of examples taken from our herbarium.
GBG's herbarium currently has approximately 3,000 specimens, covering over 200 plant families, including flowering plants, ferns, mosses and liverworts. Specimens include historical collections dating from the 19th and early 20th centuries, as well as more recent specimens collected by garden staff and students; some are wild-collected while others are from cultivated plants grown in the garden.
We are currently in the process of cataloguing and digitising the herbarium so that it can be utilised more effectively as an educational and reference facility. We are also mounting and repairing specimens where necessary. On display here is a selection of specimens that have recently been catalogued. Eventually it is hoped that the databased information, together with specimen images, will be available online.
For more information on the exhibition and our herbarium please contact the Botanic Gardens.