The Gardens' Curator, Will Ritchie, will be taking part in an expedition to the Bắc Kỳ region of Vietnam next week to study and help conserve the native flora. The expedition team will be visiting four biodiversity rich sites in the region to collect seeds and cuttings to support ex situ conservation efforts in botanic gardens across the UK. The trip will build upon a previous expedition to the region in 2014 when over 500 samples were collected, which included the critically endangered Aesculus wangii.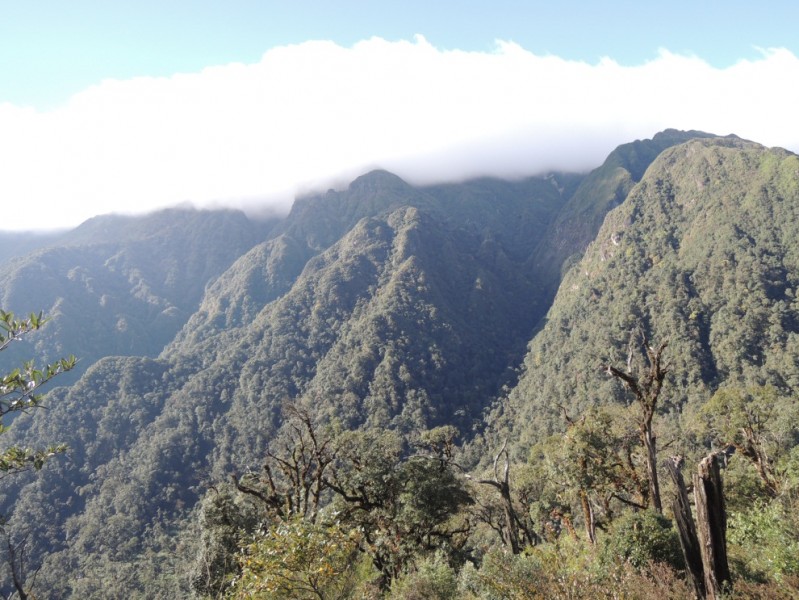 (Photo: A view across a mountain range taken during the last expedition to the region in 2014 credit: Richard Baines)
The three week expedition will include highlights such as Phan Xi Păng, the highest mountain in Indochina, and Bạch Mộc Lương Tử, a mountain range only discovered in 2012. The team, which is comprised of horticulturalists from four UK-based botanic gardens, will be joined by colleagues from the Institute of Ecology & Biological Resources, Hanoi who will provide highly valuable logistics and local expertise.
The Gardens has already been involved in conservation of the Vietnamese flora, an example of such is the specimen of the endangered Xanthocyparis vietnamensis on the Pine Lawn. The expedition will however result in a significant diversification of the Gardens current collections and specimens will be available for conservation, education, research and display purposes.
Looking forward to the expedition, Will commented: "The expedition will be an opportunity for the Gardens to re-focus our collections to make sure the specimens we hold are relevant to contemporary conservation programmes and research. We are a relatively small botanic garden, but we too have a role to play in protecting the world's flora. Will continued by saying "Some of the plants that we are likely to encounter are highly ornamental, and some may be new to science. Over the coming years I would imagine you would start to see some really beautiful specimens start to appear in the Gardens, both in the glasshouses and outside. We list the country of origin on the labels, look out for Vietnam."
To keep up-to-date with all the adventures in Vietnam, visit the Royal Botanic Garden Edinburgh's Botanic Stories webpage at <http://stories.rbge.org.uk/> or follow Will on Twitter <@willdritchie>.