Update on the P. ramorum outbreak.
We have now removed the plants that were identified, by laboratory testing, as being infected with the pathogen.
Plant material was destroyed on site by burning (see pic below), in accordance with the best practice laid down by in Scottish Governments Plant Health Order.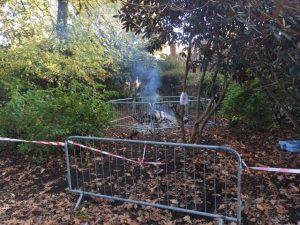 We feel it is prudent to remove all the susceptible species from the two planting beds and work to complete this task is now ongoing.
Original Post 19/10/2017
Glasgow Botanic Gardens takes matters surrounding Plant Health and Biosecurity very seriously and co-operates closely with other partner agencies to maintain good standards and best practice.
A recent monitoring visit by the Scottish Government's Plant Health Unit identified a possible problem with some of the Rhododendron plants in the garden.
Laboratory results have now identified a pathogen called Phytophthora ramorum on Rhododendron in two beds in the garden.
We have listed some Frequently Asked Questions below;
What is the disease?
Phytophthora ramorum (P. ramorum) is a fungus-like pathogen called a water mould. It causes extensive damage and death to a wide range of trees and other plants.
The generic name for the disease which it causes is Ramorum disease. The disease is known in the USA as 'sudden oak death' because different genetic forms of the P. ramorum organism from those present in the UK have caused significant damage to North American native oak and tanoak species. However, the genetic forms of the P. ramorum organism found in the United Kingdom have had little effect on Britain's two native oak species: pedunculate or 'English' oak and sessile oak (Quercus robur and Q. petraea respectively).
Will the disease make me or my pet ill?
Phytophthora ramorum is not a risk to human or animal health but does pose a threat to a large number of plants within the Botanic Gardens Collections.
How did it get here?
The plants that are infected are mature and were planted twenty years ago so it's not a disease that has been brought in from a horticultural nursery.
The disease is spread in water-splash, often near pathways, where infected material from footwear, paws or tyre tread comes into contact with the leaves of a susceptible host. Given the location of the infection on plants in Glasgow Botanic Gardens, this has been the probable cause.
What will happen now?
A Plant Health Order has been issued and the Botanic Gardens will now take immediate steps to remove and destroy the infected plants and other host plants in the immediate vicinity. A ban will be put in place on certain plants being moved from the gardens. We will not be replanting the areas with species that are susceptible to P. ramorum.
Plant Health Inspections will continue until we receive an all clear notice.
How can I help?
You can help by;
~ Cleaning footwear, wheels, paws, etc. after other visiting sites such as gardens, country parks and plantation forestry.
~ Keeping to paths, not walking on borders or entering any cordoned-off areas
~ Not removing plant material from the site
~ Keeping dogs on short leads
~ Keeping well informed and using sources of further information (books, websites etc.) on pests and diseases and their control in your own garden!
For more information see https://www.forestry.gov.uk/pramorum
Thank You
GBG