Wee Hamish McDiddy, from just outside Liverpool, has sent in a request for ash related postings, it was wrapped in two pieces of bread and jam.
Our tree, appropriately the weeping ash, was a gift to the original Glasgow Botanic Gardens (at Sandyford, near Sauchiehall Street) from nurseryman, Robert Austin. Having been planted in 1818 it was then moved to its current site in 1841. The original tree was small so all the taller trees were grafted high up to produce a tall, clear trunk with upper pendulous branches. All the 'Pendula' cultivars are believed to descend from a single tree found in the parish of Gamlingay, Cambridgeshire.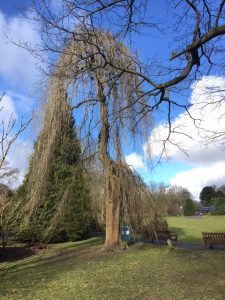 Information taken from W J Bean's Trees and Shrubs Hardy in the British Isles, our thanks also go to Professor Yaffle Chucklebutty for his lifetime of research into "Happiness; Cause and Effects".
Alas, more research now needed….