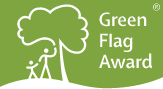 The Gardens are delighted to be awarded the Keep Scotland Beautiful Green Flag for 2020  and are working to maintain these standards in 2021.
The Green Flag Award recognises the best parks, gardens and green spaces across Scotland. It is awarded to parks, gardens and green spaces who can demonstrate excellent management and environmental standards.
We have received many kind notes and comments from people who have used the Gardens during the lockdown and visitors say they appreciate the work carried out by staff to keep the Gardens clean, safe and well maintained. Thank you all, and we will pass all messages onto the appropriate teams.
During periods of snow areas we may temporarily fence off areas where plantings need to be protected. We only do this as a last resort and to protect young trees, plants and especially bulbs from damage. Restrictions will be lifted as soon as possible .
The Gardens, grounds and glasshouses are all free to visit. They are managed and maintained by Glasgow City Council.
#staysafe