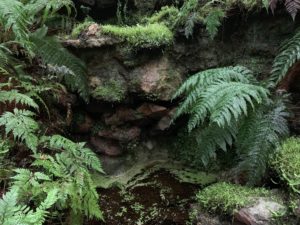 Discover the Filmy Fern House at Glasgow Botanic Gardens, a rocky grotto hidden at the heart of the Gardens.
Learn about ferns with guided tours from fern experts, a microscopic look at fern spores, some library curiosities (one of which is today's special librarian, Rob) and children's activities;
We have a fun and educational hunt around the Kibble Palace to find and learn about different shapes of fern fronds.
Make your own Cyanotype of a frond
Design and make your own badge
The tours to the Filmy Fern House are on the hour, 11am, 12 noon, 1 pm ,2pm, 3pm and will last about 30-40 minutes. Meeting point for tours is the Kibble Palace Main Corridor.
Booking is essential for the tours but activities in the Kibble Palace are all drop in.
.
Please book through glasgowdoorsopendays.org.uk
Please note that while the public areas of the Botanic Gardens are fully accessible, and there are wheelchair accessible toilets and café onsite, this tour goes behind the scenes at the Gardens and some areas have limited access